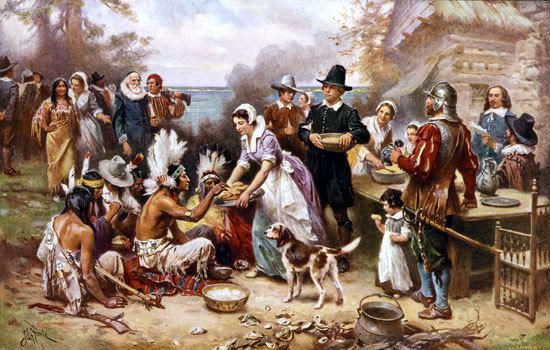 "Thus out of small beginnings greater things have been produced by This hand that made all things of nothing, and gives being to all things that are; and, as one small candle may light a thousand, so the light here kindled hath shone unto many, yea in some sort to our whole nation; let the glorious name of Jehovah have all the praise."
-

William Bradford

Puritan father, governor to the Pilgrims
One of my absolute favorite Hymns:
"Let all Things now Living"
Let all things now living a song of thanksgiving

To God the creator triumphantly raise.
Who fashioned and made us, protected and stayed us,
Who still guides us on to the end of our days.
God's banners are o'er us, His light goes before us,
A pillar of fire shining forth in the night.
Till shadows have vanished and darkness is banished
As forward we travel from light into light.
His law he enforces, the stars in their courses
And sun in its orbit obediently shine;
The hills and the mountains, the rivers and fountains,
The deeps of the ocean proclaim him divine.
We too should be voicing our love and rejoicing;
With glad adoration a Song let us raise
Till all things now living unite in thanksgiving:
"To God in the highest, Hosanna and praise!"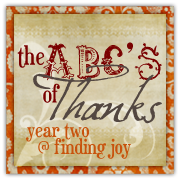 I am going to give it a shot:
B is for Being myself. I am very thankful for the way God made me, though I am not perfect I am clothed with Righteousness because of Jesus's death on the cross. And for that, I am thankful.
C is for Christmas! :) My most favorite holiday of the year, and the blessed celebration of the birth of Jesus Christ! Oooo, Christmas come soon!
D
is for my Daddy, who I miss very much.
I cannot describe to you the ache in my heart at my dad's passing, and still even now there are so many things I want to tell him and ask him. But, I would not, for anything on earth; wish him back. He can now finally run, for the rest of his life he can sing praise to God! And I know, in the not too far off future, I too will be able to dance with the Angels and fall down on my knees in praise and adoration to the Lord. I cannot wait!
E
is for Each and Every one of you! Thank you for following and for being blessings in my life. I am thankful for you!
F for my Freedom. Having the Freedom to worship Christ, and to live our lives for Him.
G
for my God. I am a worm [Isaiah 41:14] and utterly undeserving of God's infinite Love [I

saiah 43:4

]. Yet, He sent His son to die for me so that I could one day be with Him in heaven for eternity. He called me from the farthest parts of the earth, as He calls you too [

Isaiah 41:8-9

]. He chose me and has not cast me away [

Isaiah 41:8-9

]. And because of His unfailing love and His showering of Grace towards me: I choose, with all that I am, to bring glory and honour to God with my life. Whether in life or death. I will JOY in my trials [

James 1:2

], for I know all the more that through them I can bring glory to my heavenly Father who has done so much for me.
H
for Hand-written letters.

Nothing like them. "It takes a good deal of ink to write an important note."
,-./
I
is for International Justice Mission. IJM is a human rights agency that brings rescue to victims of slavery, sexual exploitation and other forms of violent oppression. I am very Thankful for them and their commitment to Christ and bringing about justice in the world!
J
is for Justice. That God is just and that His justice will not sleep forever. I will stand for Justice, Gods justice, until my dying breath.
K
is for the Kingdom of God. Advancing it, proclaiming it, planting the seeds and then letting God do the rest.
"
S
eek first the Kingdom of God and His
righteousness
, and all these things shall be added unto you." [
Matthew 6:33
] My life verse.
L is for Les Miserables, one of my absolute favorite musicals.
M
is for My friend Annaliese from Divine Epiphanies. A true, dear friend
§
an amazing blessing from God. With every breath of her body she strives to give glory to God. Her heart is sold out for Him, and nothing will stop her from advancing the Kingdom of God. "
3
I thank my God every time I remember you

.
4
In all my prayers for all of you, I always pray with joy
5
because of your partnership in the gospel from the first day until now,
6
being confident of this, that he who began a good work in you will carry it on to completion until the day of Christ Jesus."[

Philippians 1:3-6

]
N
is for Nine. Nine people in my family [Soon to be ten!], of whom I am most thankful for!
I cannot describe how much those nine mean to me.
O
is for Obsession. An Obsession with God.
P
is for Photography. A blessed, amazing gift from God. I love it and use it to bring glory to God; to shine His Light.
Q
is for Quilts. My favorite blanket.
R
is for Reading. One of my favorite past times. I love to read, read, read, and well read. :) God has truly blessed His people with books of all sizes, shapes and colors; on every topic you can think of. My favorite book at present is, "The Hobbit" by J.R.R Tolkien. I love it.
S
is for Servant. I am a servant and a follower of Jesus Christ. I am thankful that He called me and saved me so that with the rest of my life I can serve Him and bring Him glory.
T
is for The Extraordinary, an excellently written blog by my friend Alan. Alan is a c
hild of God, a disciple of Jesus, lover of people, and a seeker of justice. He strives with his life to bring glory and honour to God with every breath that he takes. Amen for this faithful servant, and I am thankful for him in my life.
U
is for Unending love. Jesus's unending love and what He has done for me and for you!
V
is for Very inspirational people. Such as my dad, C.S Lewis, Charles Spurgeon, Michael Card, Bob Kauflin, Bill Jack, Allistair Begg, Paul from the Bible, and Matt Chandler. Men of old and new who have inspired me by their continued commitment to Jesus and to advancing the Kingdom of God. I am thankful for these men.
W
is for Wondering.
For learning and asking, wondering, and wanting to know more about God and the world we live in.
X
is for XO
X
O
X
O
X
's. What would life be like without hugs and kisses?
Y
is for Yielding. Yielding to Christ and His perfect plan.
Z
is for Zealous. For being zealous for Christ and the Gospel.
What are your ABC'S of Thankfulness?
From President George Washington, giving the first national Thanksgiving Day proclamation.
"I do recommend and assign THURSDAY, the TWENTY-SIXTH DAY of NOVEMBER next, to be devoted by the people of these States to the service of that great and glorious Being who is the beneficent author of all the good that was, that is, o
r that will be; that we may then all unite in rendering unto Him our sincere and humble thanks for His kind care and protection of the people of this country previous to their becoming a nation; for the signal and manifold mercies and the favorable interpositions of His providence in the course and conclusion of the late war; for the great degree of tranquility, union, and plenty which we have since enjoyed;-- for the peaceable and rational manner in which we have been enable to establish Constitutions of government for our safety and happiness, and particularly the national one now lately instituted;-- for the civil and religious liberty with which we are blessed, and the means we have of acquiring and diffusing useful knowledge;-- and, in general, for all the great and various favours which He has been pleased to confer upon us."
Happy Thanksgiving!
All text © 2011
Footprints in the Sand
, unless otherwise noted. | All Images © 2011
Hislight Photography
, unless otherwise noted.
Link-up at the bottom and let me know what you are thankful for!